For Steerable Medical Devices
Whether you're developing a steerable device, catheter, or sheath, the Versatility handle platform can help you shave months off your product development timeline, at a fraction of the cost of conventional development.
Fast-Track Development
The Versatility handle eliminates the need to design and tool a handle in-house, allowing you to test concepts faster and focus your efforts on developing the clinical potential of your steerable sheath.
Versatile Design
The Versatility handle platform can accommodate shafts up to 24 Fr. The Versatility and Versatility Mini handles feature ready-made molded components you can easily configure for a variety of applications and functionalities: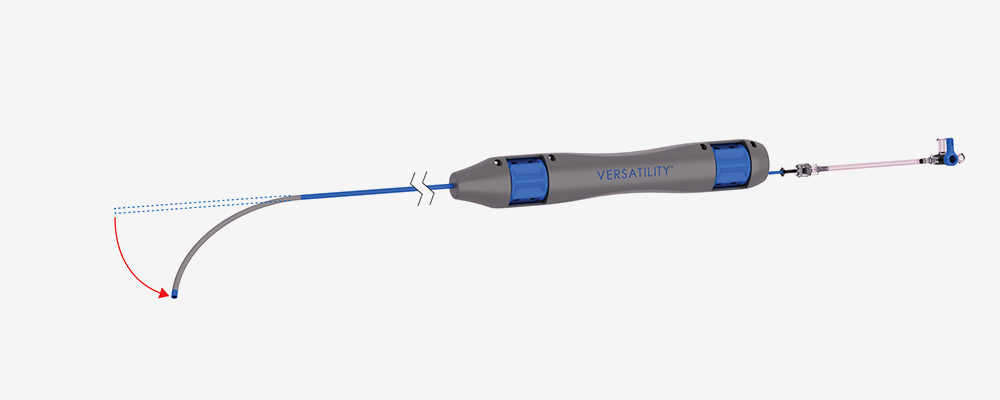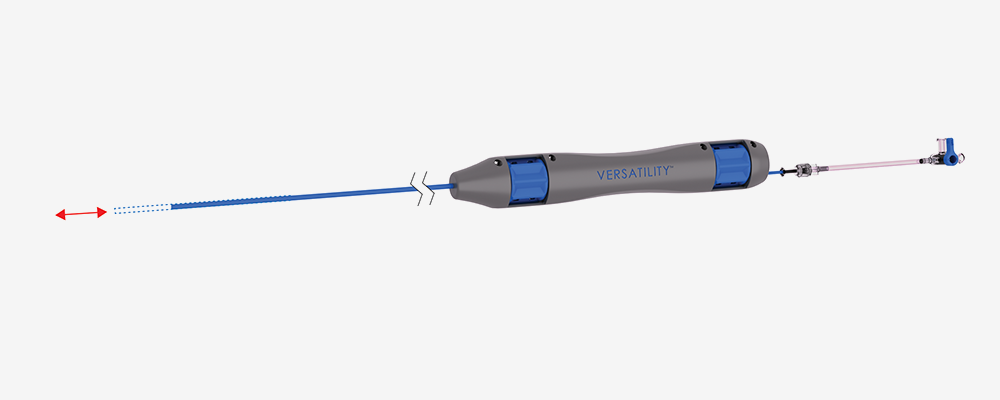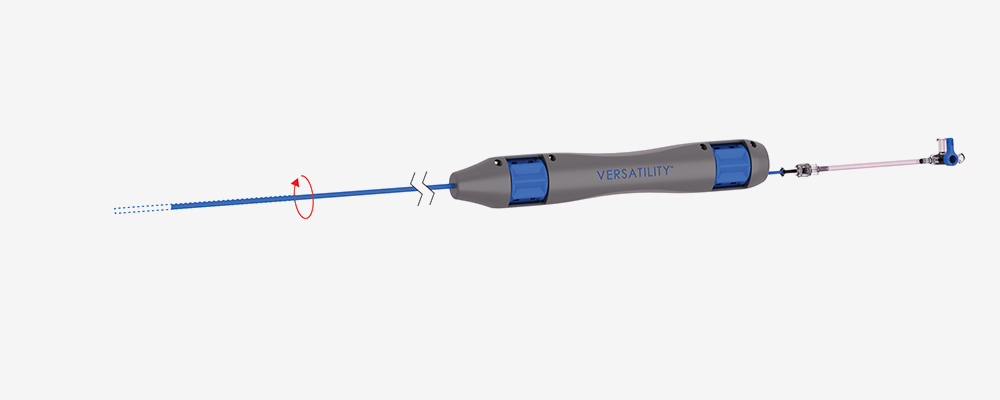 Articulation:
Unidirectional, bidirectional, or multiplanar
Translation:
Precise advancement/retraction
Rotation:
Precise angular positioning
Proven Functionality
With the Versatility handle, we've worked out the kinks, so you don't have to. You get a sleek, robust steerable sheath handle with high-fidelity molded parts and proven functionality that will lend credibility to your prototype with the look of a finished product.
Time and Cost Comparison
Based on an actual case study, this chart compares time and cost of developing a high-fidelity steerable sheath prototype using a) conventional development methods and b) development using the Versatility handle. Leveraging the Versatility handle and Nordson MEDICAL's advanced components saved more than $75,000 and shaved 9 weeks off the schedule for achieving a critical development milestone—a time and cost savings of more than 80%.
Conventional Development
Device development without Versatility handle:
Minimum of
11 Weeks AND $87K
Generate dedicated handle design
2+ Weeks
Order and receive 1st round rapid prototypes (SLA)
1 Week
Test handle components and iterate design
2+ Weeks
Order and receive 2nd round rapid prototypes (SLA)
1 Week
Test handle components & finalize molded design
2+ Weeks
Cut soft molds and receive 1st shots
2+ Weeks
Build and evaluate
1 Week
Development Leveraging Versatility Handle*
Device development with Versatility handle:
<2 Weeks AND $12K
Evaluate design compatibility
1 Day
Place order online
1 Day
Build and evaluate
1 Week
Development milestone: High-fidelity prototype with proven molded handle
* Costs include braided shaft development by Nordson MEDICAL. Development times and costs may vary based on application.
Download Time & Cost Comparison
Startup Gets Jump Start with Versatility Handle
A cardiovascular startup company used the Versatility handle and additional Nordson MEDICAL components to develop a steerable device for an embolic protection application. The result was a time and cost savings of more than 80% compared with conventional development methods:
$75,000 cost savings
9 weeks shaved off the schedule
Read Case Study
Order Online or Go Semicustom
You can leverage the Versatility handle platform in two ways:
Order a Versatility handle kit from our Online Store and add components to build your own device prototype
Work with Nordson MEDICAL to create a semicustom device prototype using the Versatility handle and a shaft built to your specifications
Order Kit
Try Semicustom Tool