ISO 80369 – Coming to a Device Maker Near You (Part Two)
The Misconnection Situation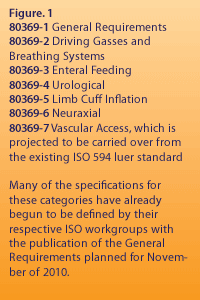 Although the misconnection of medical devices poses one of the most grave, and potentially lethal scenarios in any patient/healthcare environment, connectors are frequently one of the most overlooked components of a device. Often the primary user interface, they also represent one of the most integral pieces of any system and directly influence how easy and safe a device is to use.
This realization has not escaped the International Standards Organization (ISO) who have, in conjunction with a number of other driving forces (AAMI, FDA, EN, JCAHO, WHO and even states such as California), determined it necessary to pursue regulatory action. The goal being to help ensure patient safety by mitigating confusion and risk associated with the current medical device and connector climate. ISO will proceed with what has been designated the 80369 initiative via an oversight committee and workgroups, of which Value Plastics is a contributing member. This initiative includes seven sections and breaks connector usage into six primary application categories with the intention of negating the potential for connectors from each of these categories to be interchangeable with a connector from any other category. The sections are planned to be broken out as referenced in Figure 1.
What does this mean for me?
It's time to get involved. By now, we are all aware these concerns are valid, and the ensuing conversions and qualifications will take a lot of time, energy and ultimately money. The ISO 80369 committee is also aware of this and is attempting to apply measures that will account for this implementation time. However, they are also being faced with a growing concern from clinical users and the public health domain to swiftly implement these precautions and improve patient safety in areas where the risk of misconnections are so palpable. Device OEMS will need to engage themselves in the process sooner than later not only to better understand its requirements, but to be better prepared to protect their business and support the markets and customers they serve.
How do I get started?
To learn more contact Value Plastics, an active member of the 80369 committee, to start discussing the requirements and options around your connector application. You can save a lot of time, money and trouble by working toward a solution now. Whether you prefer an off the shelf solution or would like to consider a custom one the Value Plastics Design Center can help fill you in on the details and direct you toward an intuitive, cost-effective, safe and secure connection. Stop by our booth #1937 at the MD&M East show in New York next week and talk to friendly and knowledgeable people about your application and what you can do to prepare for these new upcoming standards.
Please be aware that Value Plastics is communicating this information to you because we believe that you may be affected by the upcoming ISO 80369 standard. Your email address has been added to a specific ISO 80369 awareness list with Value Plastics and as we have new information we will share that with you via subsequent email communications. If you do not wish to recieve any further ISO 80369 email communications from Value Plastics please click here. Thank you.