State-of-the-Art Design Allowing for Easy Operation
The biopharmaceutical industry has made a strong move towards single-use technology, so Nordson MEDICAL has developed ground-breaking clamp designs that simplify the assembly process by making it effortless to securely attach sanitary fittings to bag ports and filters.
PharmaLok™ clamps are ASME BPE compliant and operate at a maximum pressure of 80 psi. Single-use and easy-open clamp sizes fit .5" (12.7 mm) to .75" (19.0 mm), 1" (25.4 mm) to 1.5" (31.8 mm), 3" (76.2 mm), and 4" (101.6 mm). These clamps provide a significant advancement for the industry, as a number of existing solutions either require tools for closure or consist of multiple components, which turns what should be a simple operation into a difficult and awkward process.
"As a founding member of BPSA, Nordson MEDICAL has been fortunate enough to have insight into the needs of the biopharm industry," comments Ken Davis, Global Marketing Manager for Nordson MEDICAL. "User-friendly solutions are increasingly demanded, and single-use systems have developed into an overwhelming market trend. Incorporating these factors into the PharmaLok™ has resulted in an ideal solution for our customers."
Easily operated with one hand, PharmaLok's patented design allows effortless attachment of fittings to bag ports and filters. The user simply rests the fitting in the PharmaLok's regulation-sized slot, lightly grips the surrounding handles, and listens for the sound of clicks to confirm a secure connection.
Meet Our New Clamps
To simplify assembly processes, Nordson MEDICAL has developed new 3" and 4" PharmaLok™ clamps. These ground-breaking clamp designs make it easy to securely attach sanitary fittings to bag ports and filters. The 4" clamp features a unique double-hinge that has been designed to provide equal pressure on the gasket as well as reduce the risk of accidental opening. As part of Nordson MEDICAL's PharmaLok™ line of clamps, these new products have all the features users have come to rely on, such as one-handed closure, audible clicks to indicate a secure connection, ASME-BPE compliance, and materials that meet USP Class VI and ISO 10993 criteria.
Do more with your pharmaceutical development, and utilize Nordson MEDICAL's industry-leading line of PharmaLok™ clamps. Complete the assembly by adding one of our sanitary fittings and end caps.
Request Samples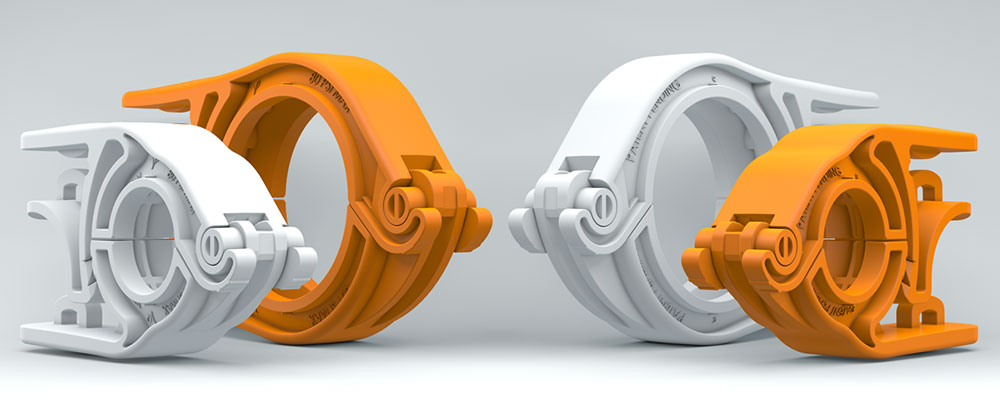 Nordson MEDICAL Engineers Rise to the Challenge to Support Vaccine Manufacturing
Each day, more than 40 million doses of the COVID-19 vaccine are administered around the world. At this rate, it will take another six months to achieve the vaccination goal of 75% globally. Disruptions in supply chains caused by material shortages and the pandemic economy have threatened this goal to vaccinate six billion people. Our team of engineers at Nordson MEDICAL have risen to this challenge by seeking out alternative resources and materials to overcome these disruptions and support the global vaccination effort.
One such disruption in the supply chain is the scarcity of glass-filled nylon used to manufacture Nordson MEDICAL's PharmaLok™ Clamps. These clamps play an essential role in the production of vaccines because of their strength connecting sub-components together and sterilization properties - but to overcome material shortages and meet demand - it has become imperative to find an alternative. Once a battery of strength and performance tests had been completed, our team of engineers concluded that a glass-filled polyester material met the same material standards of glass-filled nylon. Within a short time, production resumed and over the following two weeks, production of PharmaLok™ Clamps is being ramped up to meet the surging demand.
Nordson MEDICAL continues to be your single-source partner for the design, development and manufacturing of complex medical devices and component technologies. Our promise to enable our customers to save costs, speed time to market, and simplify supply chain management has not waivered despite this global pandemic and we will continue to take a personal responsibility for quality because lives depend on us.
Supporting test documentation and samples of PharmaLok™ Clamps made with glass-filled polyester material are available by contacting Ravi Narayanan or Nordson MEDICAL customer service at 1-888-404-5837. For online orders, visit the Nordson MEDICAL store.
Contact Us
Design Upgrades for Improved Performance
As the global expert in the design, development and manufacturing of complex medical devices and component technologies, Nordson MEDICAL is committed to the continuous improvement of our products. This commitment to quality has improved the performance of our PharmaLok™ line of easy-open clamps and tube clamps.
These design upgrades include rounded hinges on all easy-open and tube clamps — allowing users to open these clamps to a full 180°, making it easier to insert both conforming and non-conforming fittings. To prevent the clamps from coming apart when completely opened, the hinges have also been enlarged.
As a result, the entire product line of PharmaLok™ easy-open clamps and tube clamps make end-user interaction easier and more consistent.