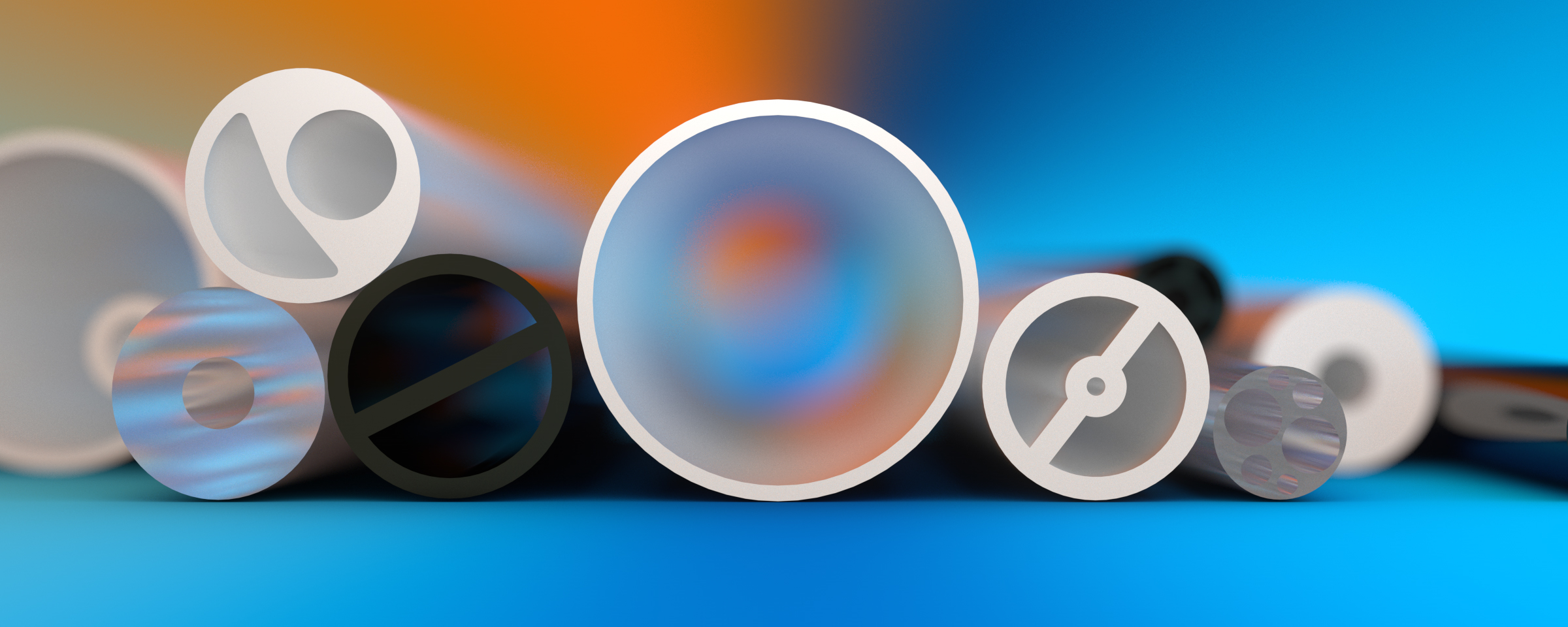 Nordson MEDICAL has a long, successful track record of supplying high-precision, specialized extruded tubing to the medical device industry. A global partner with facilities around the world, we specialize in high-performance tubing for critical applications.
Types of Extruded Tubing
Multi-Lumen Tubing: 2-9 lumens for simultaneous passage of guidewires, catheters, fluids, and/or gasses.
Multi-Layer Tubing: The extrusion of multiple layers of material is done simultaneously to produce multilayer tubing. Multilayer technology is primarily used to improve functionality; for example, to combine a weldable material with one that has other performance characteristics, like lubricity. These constructions can also increase performance and possibly reduce overall assembly and material costs, making the medical device more cost effective for the customer. Other key functionalities may include active material layers, such as hydrophilic, bioresorbable, or drug-eluting layers. The technology and materials now used to produce multilayer products for today's medical devices have advanced greatly and provide the designer with a wealth of opportunities for optimizing size, materials, and functionality.
Co-Extrusion / Stripe Tubing: Coextruded multilayer tubing can combine materials with different but complementary properties—including durometer, color, opacity, radiopacity, or tensile strength—to provide custom catheter solutions. The most common application is medical extruded tubing with radiopaque stripes visible under X-ray. This is accomplished by encapsulating stripes containing a filler visible under x-ray within the wall of the tubing.
PEEK Tubing: Due to its excellent strength and heat endurance, PEEK is used for catheter-based devices that require high-temperature sterilization as a low-cost alternative to metal.
Lubricious Materials and Additives: These can be used as a catheter inner liner or as an alternative to hydrophilic coatings, reducing processing steps and ensuring longevity.
How Can We Help?
Not finding what you need? Let us help.
| Program | Level of Customization | Time Frame |
| --- | --- | --- |
| Medical Tubing Online Store | Select from hundreds of configurations of in-stock extruded tubing | Ships within 24 hours |
| ProtoExtrusion™ Prototyping Tool | Choose from a wide range of standard specs for custom single-lumen rapid extrusions | Ships within 2 weeks (expedited shipping available) |
| Design Your Own Extrusion | Get a quote for a fully custom extrusion made to your exact specifications | Ships in 2-12 weeks, depending on complexity |
Get to Market Faster
Nordson MEDICAL offers expertise in premium, medical-grade extruded tubing. To ensure that we grow with you, Nordson MEDICAL is building for the future, having added extrusion capacity in our U.S. and European facilities.
<2 Weeks Lead Time on New Projects
Multi-layer tubing for PTA / PTCA applications
Single-lumen tubing
Multi-lumen tubing
Scale Your Production Needs with Confidence
FDA registered production sites
ISO 13485 certified facilities
Class 8 qualified production cleanrooms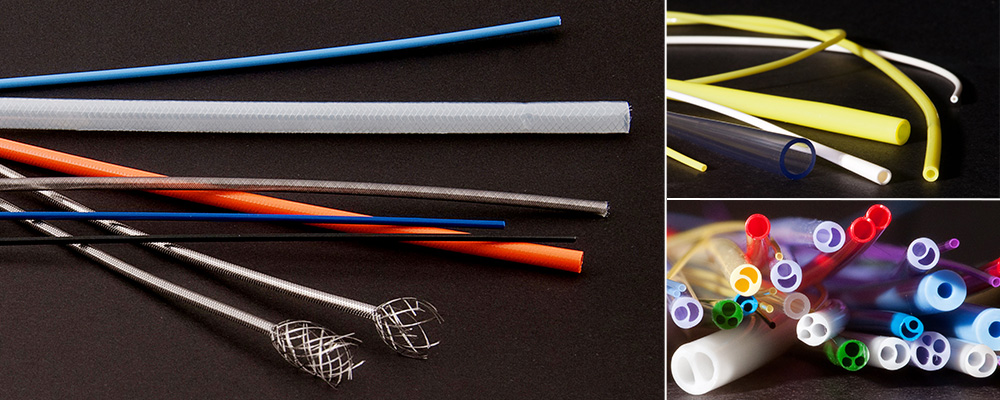 Extensive Line of Specialized Extruded Tubing
Single lumen tubing

Ultrathin-wall tubing
Microthin-wall tubing

Multilumen tubing

Quick production from simple to the most complex multilumen designs

Coextruded multilayer tubing
Taper/bump
Profile tubing
Technical Information
Customized Materials to Meet Your Needs
Full range of thermoplastics
Fluoroplastics (FEP, PTFE)
Engineering plastics (PEEK, Polysulphone)
Custom compounds: colorants, stabilizers, radiopaque fillers, and active agents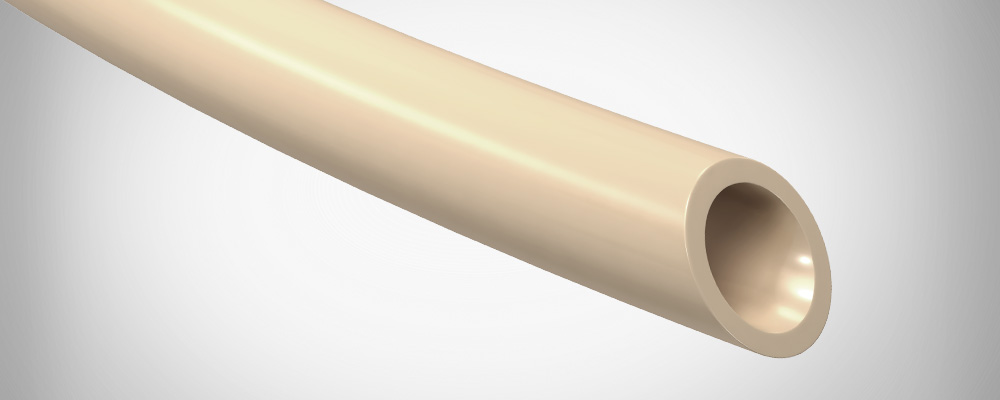 Versatile PEEK Tubing
PEEK is becoming an increasing popular choice for catheter-based devices. With excellent strength and heat endurance, PEEK is one of the few polymers that can replace metal, even in high-temperature sterilization applications. This versatile material allows designers to heat form, tip, taper, flare, or flange complex catheter designs. Visit our Online Store for PEEK extrusions, in stock and ready to ship within 24 hours. Contact us to discuss custom medical extruded tubing, including single-lumen, multilumen, and multilayer tubing items.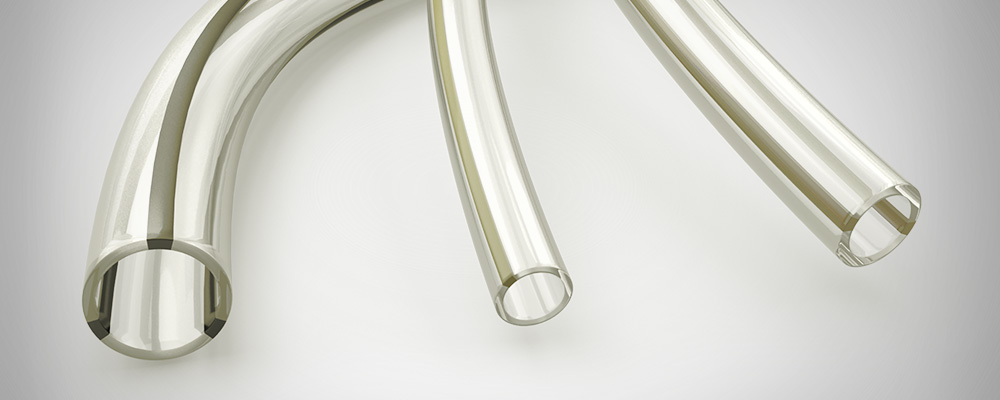 Lubricious Materials & Additives
Medical device designers of catheter-based devices use lubricious materials to ease insertion into the body or into another device, boost pushability, and increase sensitivity of movement. These lubricious materials are used as a tubing liner, as an alternative to hydrophilic coatings, or as a way to improve bonding to other components. We have multiple configurations of lubricious, single-lumen extruded tubing available in our Online Store with the following market-leading lubricious additives: EverGlide®, PEBASlide, ProPell S™, and Mobilize. Contact us to discuss custom medical extruded tubing with lubricious materials and additives.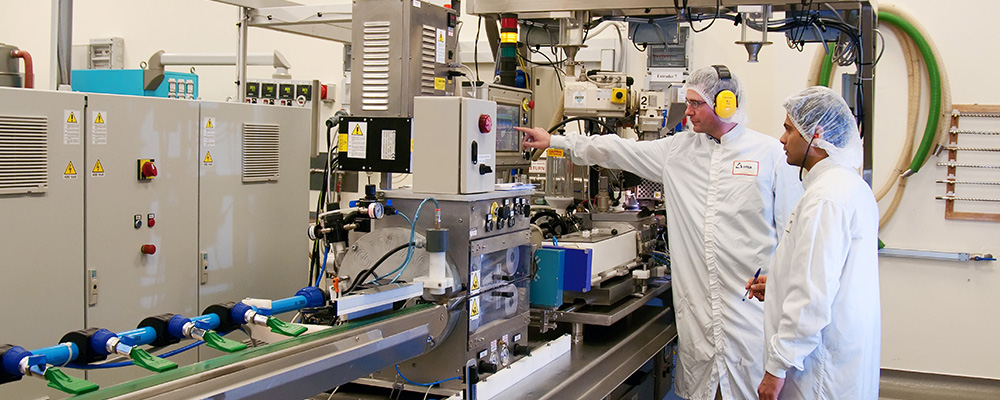 In-House Equipment & Expertise
Nordson MEDICAL brings state-of-the-art extrusion equipment together with materials and engineering expertise to develop specialized extruded tubing for the most demanding interventional and surgical applications. We offer:
Best-in-class tolerances
Fastest medical polyurethane line in the world (> 300 million feet annually)
Automatic closed-loop feedback systems that allow us to maintain constant melt pressure to minimize process variation
Validated processes to support customer compliance
Cleanroom environment for all commercial extrusions
Thousands of Stock Options
Our innovative Online Store offers thousands of stock medical extruded tubing items ready to ship within 24 hours, including single-lumen and multilayer tubing items.
Unlimited Custom Options
Need custom extrusions, fast? Use our ProtoExtrusion™ Prototyping Tool to order single-lumen extrusions online for shipment in as little as 2 weeks. Select from a wide range of options and get a custom extrusion made to your specifications in weeks rather than months. Our ProtoExtrusion™ Tool helps speed development and ultimately, get your product to market faster.
Need customization beyond our standard specs? Use our Design Your Own Extrusion tool to request a quote and time frame for a fully custom extrusion. Or contact us to discuss your custom extrusion needs.
Medical Extruded Tubing: Process Parameters and Equipment Play Critical Role in Performance Characteristics
Sometimes process parameters and extrusion equipment are more important than the actual dimensions of the tube.
Technical information on single- and multilumen tubing, multilayer tubing, and more