Specialists in Single-Use Fluid Management
The biopharmaceutical industry has made a strong move towards single-use technology. Nordson MEDICAL provides world-class single-use fluid transfer components to facilitate breakthrough advances in human and animal care pharmaceutical development. Our Online Store features a full line of bioprocessing fittings, including:
Our BioProcessing Fittings Line of Components Has Been Tested & Approved for X-Ray Sterilization
In an everchanging and continuously improving industry, biopharmaceutical companies are making the move towards x-ray sterilization as a more cost-effective, safer, and more eco-friendly alternative to gamma sterilization. In response to this, Nordson MEDICAL has performed x-ray sterilization on our Bioprocessing Fittings line of components and tested against existing specifications.
From this testing, it can be concluded that our PharmaLok™ Clamps, Tube Clamps, Sanitary Fittings, RQ Series Quick Connects, Bag Ports, and Tube Fittings are all suitable for use with x-ray sterilization. This process does not introduce defects to the products and yields similar effects as that of gamma irradiation
Explore these products in the links below and contact us with any questions you may have.
Partnering with Nordson MEDICAL Can Expedite Approval Process During Pandemics
In December of 2019, the first vaccine for the treatment of Ebola was approved in the United States. At the time, Nordson MEDICAL had a partnership with one of the world's leading pharmaceutical companies working to develop one of the Ebola vaccines during the human trial phase. When they called Nordson MEDICAL to supply the parts they needed for vaccine production, it didn't take long to make a decision. The needs of biopharmaceutical customers are incredibly unique and especially strict. The regulatory documentation that supports our products purity and performance qualifications are necessary to manufacture a safe vaccine for the life-saving fluid that it would carry. As a result of this documentation and partnership, over 150,000 people would receive the vaccination and more than 10 million doses would ship worldwide four months later.
As an integrated, single-source supplier, Nordson MEDICAL is able to provide the critical components and services required to accelerate your approval timeline. Our standard on-the-shelf products support with validation testing, regulatory documentation and support on file expedites the approval process so that your team can focus on key priorities and deliverables.
The ability to draw on a broad range of expertise within one company can be a major factor when navigating the approval process. Call the Nordson MEDICAL customer service team at 1-888-404-5837 and discover how partnering with Nordson MEDICAL can expedite the approval process during pandemics.
Broad Applications
Our bioprocessing fittings are used in a wide range of applications, including:
Cell and Gene Therapy
Biopharmaceutical
Single-use technology (SUS)
Drug discovery & development
Fluid transport
Pharmaceutical scale up
Sterile bag systems
DMSO
Specialists in Systems Integration
Upstream and downstream systems both demand reliable, high quality fluid transfer components from a variety of suppliers and Nordson MEDICAL delivers unmatched standards specific components time and again that are guaranteed to interconnect within any biopropcessing system regardless of the supplier.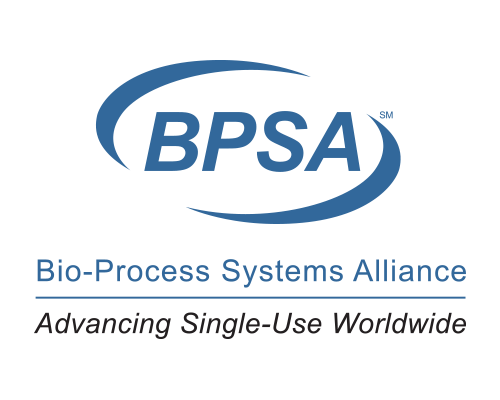 Founding Member of BPSA
As a leader in single-use fluid management technology, Nordson MEDICAL is a founding member of the Bio-Processing Systems Alliance (BPSA). This is an industry-led nonprofit group dedicated to advancing the adoption and implementation of single-use manufacturing systems through education, sharing of best practices, development of consensus guidelines, and business-to-business networking opportunities.
The Importance of a One-Stop-Shop - White Paper
The bioprocessing market demands that suppliers assure quality, streamline processes, and limit costs. This white paper suggests 6 questions you should ask your fluid-management component supplier to ensure you're meeting your goals for your partnership.